Even since we started this blog the number of cock cages available has grown hugely (unlike the cocks that go in them, lol). We've tried quite a few now and I thought I'd put a page together with reviews and recommendations from hubby and myself.
There are a few different types of male chastity device. They range from 'ball capture' devices, which as the name suggests, use a ring behind your balls to keep the cage from coming off, to cock cages that rely on a prince albert piercing to keep it in place (obviously more secure) and then full belt devices that are like the medieval chastity belts you may have imagined initially (they aren't that dissimilar!).
The 'ball capture' device is by far the most popular. It's small, light, can be bought pretty cheaply and looks really good. The downside however, is security. With almost all of them you can wriggle your cock out of the back (sometimes with a lot of effort) although it can't always go back in. If properly sized, you can't get the whole device off, because it's still around your balls, but in theory a guy can cheat by getting at least his cock out. However, I personally don't think that's a problem, and here's why…
The myth of security
Chastity is very much a fantasy fulfilment. Guys who are into it have been dreaming about the idea of having their cock locked up and being kept horny without release. The ball capture devices go a long way to fulfilling that desire!
In a relationship, where chastity is being used to add intimacy and new sexy experiences, security is only moderately important. Ultimately my lovely hubby is in denial because he wants to be!
In fact some couples explore chastity together without using any device at all. Personally I think having his cock literally in a cage adds a LOT of fun and sexiness to the experience, and I know he feels that way. But the fundamental concepts of tease and denial that underlie chastity play can work with or without a cage. I should know, for the last ten years I have been what's known affectionately as a 'denial slut' where I've not been allowed to cum without hubby's permission – and we've never used any kind of chastity device on me. (And yes I love that the tables are turned now!).
So for most of us the semi-secure ball capture device will be more than enough, and at least a brilliant start to exploring chastity.
Yes there is the pierced cage option for those who crave even more security, and that's as much a mental game as a physical one. And I'll be honest, now I've got really into this the idea of getting him pierced is kind of hot. But it's also pretty hardcore, and more a hot fantasy for us at the moment.
The final category, the full belt chastity device, is not something we'd ever try. Not only are they crazily expensive, but the impracticality and discomfort involved mean they are purely for the true chastity fanatic in my opinion.
Even with piercing or full belts though, a determined man can always cheat, and that's why I call security a myth. A powerful vibe applied to a cage for long enough will make a guy cum. So there's always ways for them to cheat, so any chastity play requires a level of trust between you that he'll 'be good'. So given that, I tend to feel you might as well go for the simple, and plentiful ball capture options than anything more difficult.
So anyway, that's a little intro, here's some (ever expanding) thoughts on actual devices.
First chastity device
If you are completely new to chastity there is in my mind no question about which cage you should buy first.
It's the CB-6000S – the classic plastic chastity cage that you see all over the place. And there's a reason for that, it's really good!
But the single most important reason it's the one to get first, is because it comes with a big variety of sizes for the ring and cage spacing. Five ring sizes, five spacers (to determine the gap between the cage bit and the ring that your balls go through. This is what you get:
Here's hubby's feedback:
The CB-6000 plastic cage is the first device we ever bought and it kick started our exploration of chastity together, for which I'm forever grateful. It's amazingly comfortable once you take a bit of time to get used to it, in fact you can almost forget you're wearing it until something gets you turned on.

The variety of sizes is its biggest selling point. You start with a bigger ring and spacer and slowly work down until you find what works best for you. Even when you've adjusted to a size that fits, you will probably find you'll like to make it smaller after a month or two which gives you a fresh buzz from the experience.

You have to use a good silicon lube with a cage like this, or else you'll find it hard to put on and uncomfortable during the day. You'll actually find wearing it becomes quite stimulating at times. The full encasing of your cock, when lubed, actually gently stimulates you, and then you get hard and it's truly frustrating, which is just what you want I'm sure.

The big downside of a plastic cage like this is hygiene. You have to remove it, ideally every day for a quick wash, or you can get by with washing it out with a shower jet and some shower gel, but even then you'll want to take it off for a good wash every few days. That is the main reason why many graduate to a metal cage which has far more
Let me add a warning here from our experience.
Don't buy a fake one! I know they are cheaper on ebay etc, but there's a really good reason for that, they are very inferior. We bought a cheap one first, and noticed it had rough edges and incomplete finishes, but once we'd dealt with that, thought it was pretty good. Until, it split while he was wearing it, pinching him severely and drawing blood – not good!
This is something you're putting your manhood in, and it may spend a long time in contact with (if you're lucky lol). Invest in the genuine thing, it's worth it.
And buy it from our favourite toy store, Lovehoney – because, amazingly, they give a 365 day money back guarantee on everything you buy. So basically you can buy your CB-6000S from them, and if you don't like it, just send it back for a full refund within a whole year! (or try a different option). So then you get the genuine article, risk free. Definitely the way to do it.
Why the 'S'?
So, now we get to a topic I've got a little obsessed with since exploring chastity play – cock size! The 'S' in the name indicates the small version of the CB-6000, it comes in a standard size too, and a bigger one I'll mention in a minute as well.
But here's the thing, when it comes to cock cages, smaller is definitely better! You do not want ANY space at the end of the cage for him to grow into if you can help it. Not only does it look much less attractive (come on, we want to see a nice full cage, not a half empty one, right?) but if his cock can grow a bit and then get stopped it's more painful than if it basically fills the cage already – especially at night time.
The S version is 2.5″ long compared to the normal 3.25″, but that doesn't include the distance from the ring to the cage bit either. Basically, if you can fit in the small version, you should get it. This means if you are a grower rather than a show-er, it's almost definitely the small you need. If your cock is smaller than 4″ (10cm) flaccid, I think you should start with the small one.
Hubby has an exactly average cock according to what I read, and the small CB-6000 is exactly the right size for him.
They cocks tend to squash down pretty well, which seems to feel good, so if you're average sized or below, get the S version to start. As I said, if you buy from Lovehoney you can just swap it out for the next size up if you find you need to!
If you're really well hung (lucky you…) then you may be a candidate for The Curve version of the cages by the same makers, CB-X. It's basically for you if you're completely a shower and not a grower, again remember, you want to FILL IT when you're soft. So unless you're six inches or bigger when soft, be a good boy and go small, it's what you need.
The Curve, only for you bigger chaps, and I mean REALLY big
Okay, so that pretty much covers the plastic options, which again, is really where we recommend you start. There are others such as the Holy Trainer which lots of people like, BUT none of them come with the sizing options the CB-X cages above offer, which is their main selling point (besides being a good basic design).
Because, once you've used one of those to get try out being caged and use the different sizes to adjust and refine what's comfortable. And once you start wearing them for a bit longer and the hygiene issues get more annoying, you're going to want a metal cage, trust me.
Now that doesn't mean the plastic ones don't get used by the way. We still get a lot of use out of ours – in fact if you're travelling through airports it's vital for obvious reasons (that's what those little plastic tags are for, so you can do without the padlock for security scanners).
The plastic cage, from my perspective, also looks really hot, his cock totally encased, barely able to touch any of it, sliding around in his own precum when he's so horny. God, so hot!
But, for extended wear you're going to want a metal cage, for the simple reason, they are super easy to keep clean in. Beyond that they are also obviously more secure and to me they also have a very sexy look if fitted correctly.
Now, even a couple of years ago, it seems, you'd have been looking at spending hundreds of dollars to get a metal cage. There was one design called something like the 'Birdcage' floating around I'm told, but it's flipping huge, great if you're a porn star or have the cock of one, pretty useless otherwise.
We have tried a few different metal cages, and I'll add reviews of the others are they're interesting in various ways, but for now there's one outstanding new design that in our opinion is the absolute go to design for a metal cage – and it's been further improved since we bought our one just a few months ago.
This is it: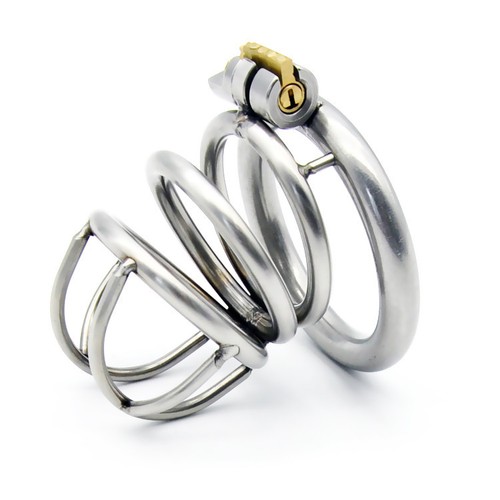 Tight Squeeze Cock Cage with Integrated Lock
We used to point you to buying it from one of the Chinese sites but a lot of people have fed back how they didn't like the 4-6 week wait (and potential of customs officers opening up the package from China!) so we've found a great UK supplier called Toys4NaughtyBoys who not only offer fast delivery but unlike the Chinese, they offer a 30 day money back guarantee – so you can try it without risk.
We're looking forward to bringing you some more reviews in the near future now we've found them as a supplier. Watch this space!
Here's hubby's feedback on the cage:
This cage is what I wear most of the time now. It's by far the most comfortable metal cage I've worn, and in fact this latest version includes two refinements on the version we've currently got, which itself was an improvement on the original design that's been around for about 10 months.

The first design had a curved base ring and curved rings made up the shaft part. While this sounds like a good idea, actually the two curves met to make a pinch point that your ball sack could get caught in. This has adopted simple round rings and avoids that (which is the type used in most of the very expensive custom cages too). A simple ring works perfectly well, and a curve to the ring doesn't offer any significant advantage.

The second improvement this features is the replacement of the ring for locking a padlock to, to a much neater integrated lock, as usually only found in high end cages, plastic or metal. Now I know that some like the symbolism of a padlock, but the reality of it is a bit annoying, clinking if you're wearing loose clothes or sticking out at an odd angle.

This very neat integrated lock is a great improvement and serves to make the whole thing even lighter and more compact, while also eliminating any movement that a padlock through a ring offered.
The Arc
We've recently found a wonderful new sex toy store that specialises in chastity cages! They've been kind enough to send us a few cages to try out and here's a review of one of our new favourites – The Arc. Here's the review by hubby and me.
When we first looked at the photo of this cock cage we were both a bit intimidated as it has a urethral device featured that looked, well pretty serious!
Here's the first thing to note, it's completely optional! In fact we haven't used it with the tube at all yet. The tube comes as a separate piece and while it attaches really nicely, the cage works just as well without it.
So this is our review of the cage as it is without the tube for now.
It's a stainless steel device which appears to be very good quality. All the welds etc are very neat and it's smooth on the inside which is what you'd hope (but don't always get with some of the ones we've had before).
There are three key features we like about this cage. Firstly, as with more and more of the recent designs, it has an integrated lock. Now I know people do like the whole symbolism of a padlock and I get that, but this is so much neater, no clanking padlock sound to have to deal with either, and is a very secure option.
The key slides into the barrel of the lock, turns the end locking piece and then the whole thing slides out with the key to unlock the cage. The keys are bigger than the ones you get with the little padlocks, but they are still smaller than a standard house key.
The second feature to highlight is the ergonomically shaped base ring. Hubby reports it's very comfortable and ranks up there with the most comfortable he's ever worn. It's not hugely better than the simple circular rings but there are no downsides to it either.
It features two holes that prongs on the cage itself slide into, as you can see below. This means it's super solid and the gap is very well fixed. No pinched ball sacs as with some of the other designs that lack that.
It's solid, a good fit, and absolutely does not leave room for any accidental escape. It's a little bit heavier than just a normal ring on something like the TIght Squeeze, but nothing he's noticed in day to day wear.
Lastly I really like the cock part of the design. The rings are flattened, not round, which I think is attractive, and then head is very well enclosed with 8 bars meaning it's got a very solid, locked in feel to it.
Now the downside to that last feature is it's harder to pee in than ones with the tip that is open, as the bars and ring in the middle can get in the way. But hubby's feedback on that was it was 'weirdly easy' to pee in it. He can do it standing up but sitting is obviously safer.
Very handily hubby has a pretty average sized cock (I'm not being mean, just saying! :P) and he's a grower not a show-er. So he fits in this perfectly. It's still a small cage though, you aren't going to fit in this without a lot of work if you're big or a show-er. But otherwise it's snug but not tiny (we have a tiny one we're reviewing which is hilarious…).
As I said we are yet to try the urethral tube so we'll update that, but it's really nicely made, a long tube you can cut to size with two high quality end pieces that look very secure,as you'd hope for where you're sticking it!
So to summarise (we thought we'd try to standardise these reviews a bit going forward!)
Looks – 9/10
One of the best looking cages we own.
Quality – 9/10
Tiny imperfections in the welding but we really had to look. Good quality stainless steel (but not medical grade like the very top cages).
Functionality – 9/10
The integrated lock, semi-closed tip and curved base ring are all very nice, plus the urethral tube if that's your thing.
Security – 7/10
As with any ball trap device he can pull out if he wants,but he can't get it off completley. This is about as good as it gets without a PA piercing
Value – 9/10
At just a tenth of what a custom metal cage would cost it's a real bargain. Throw in the fact you get the urethral tube for free it's especially good. Personally I'd like to see a version available without the tube too, but remember it's totally optional, we haven't used it at all (yet! lol)
Price – £34.99 from Toys4NaughtyBoys
So, this is the cage that we got sent to review from Toys4NaughtyBoys (thanks guys!) that made my hubby gulp when he saw it! lol
The Restrictor is a very simple cage, but very effective, because the way it holds you in is it slides inside your urethra! Now if you're into urethral sounding etc then that's probably no big deal but for hubby it's one of those things he really isn't sure about and we've only explored sounding and insertion a few times in really intense moments.
The design is pretty nifty actually, it's a nice solid ring with the integrated lock that we really like already. Then it has one single solid bar over the top as you can see, which connects to a hollow tube about 5cm long. The main point is that it's long enough so that you can't pull the cage off your cock, you're properly impaled on it, making it super secure.
We're no expert on insertable things but obviously take it slowly trying something like this, and use lots of sterile lube to smooth the way. Hubby tried to put it on himself but chickened out, so I got into 'nurse mode' and slide it in him which was really quite satisfying!
There was a definite 'stinging' as it went in, which we've experienced with all insertable toys at first, but that soon stopped. I think if you're used to urethral play you wouldn't have that at all.
He could pee down the tube but it also kind of came down the sides too he told me, but it stung a bit too, as I don't think his urethra's used to this kind of attention!
We didn't try making him cum down it, we were both a bit nervous to try too much stimulation with it in.
For me I like the concept of it, how inescapable it is, but there's the constant worry of it hurting the inside of his cock or causing infection that kind of takes the edges off it. It's certainly a very effective little thing though, and I might keep it as some kind of punishment cage on the whole.
I'd love to see him cum down the tube though, not sure why. So some serious prostrate massage with it on might be in order some day.
We happened to actually have someone send us a picture of them wearing it (I don't usually post dick pics people send us but this is shopping we're talking about!)
For extra security (or sadism) you can buy a spiked ring that inserts in between the two existing ones like this:
(But we didn't get sent one of those so can't say how well it works).
So to summarise:
Looks – 7/10
Cool from a minimalist perspective, but I personally prefer where he's all encased in a cage.
Quality 8/10
The welding from the bar to the tube isn't completely perfect and his cock head is pressed against that the whole time, but it didn't seem to be an issue.
Functionality – 7/10
The integrated lock, solid base ring in various sizes and construction is good, and if you like urethral insertions then it's obviously brilliant. but if you don't then it's not for you. Peeing seems to work okay but is a bit drippy afterwards.
Security – 9/10
With the tube going back almost to the rear ring it's almost impossible to pull yourself out. I think it might be just about possible if you really pushed back bu then you'd be stuck against the tube and balls still held. So yes, not perfect but pretty close.
Value – 9/10
Again, amazing value for a solid steel cage with integrated lock. A very funky more fetishy design but if you're after that you can't go wrong.
Price – £32.99 from Toys4NaughtyBoys (the spiked ring is currently on sale at an additional £7.49